Policy - Policy Direction
The Moody Centre TOD Master Planning Area is bounded by Buller Street to the east, St. John's Street to the south, Moody Street to the west, and the Canadian Pacifc Railway line to the north. The area is within close proximity to Rocky Point Park, Brewer's Row and both Moody Middle School & Moody Elementary.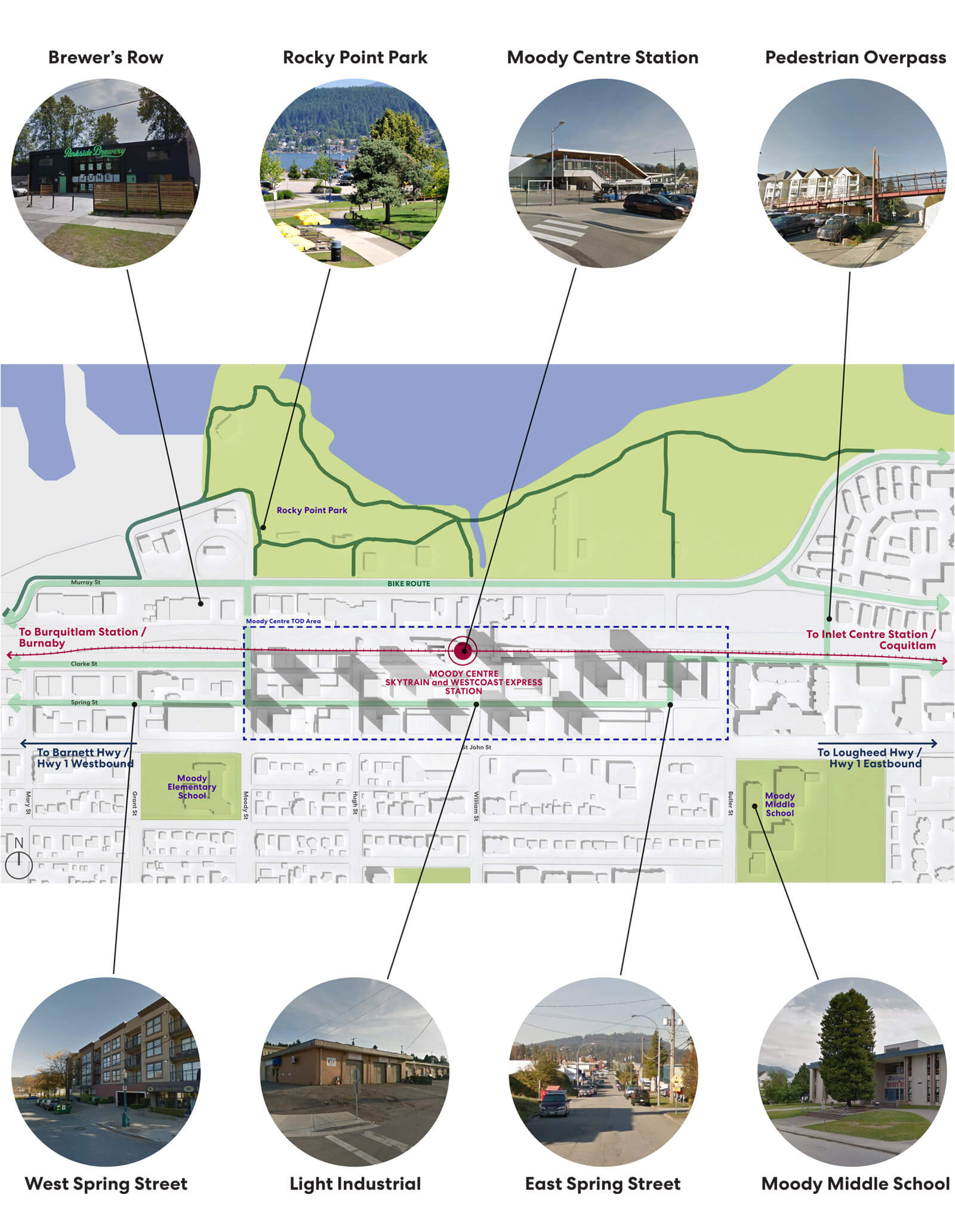 Moody Centre Vision:
The area is industrial and commercial in nature and is a close walk to the City's primary park and waterfront asset: Rocky Point. In 2017, the City of Port Moody adopted a neighbourhood area plan for Moody Centre, please click here to see what the City envisioned for the area.
The OCP specifically discusses the Moody Centre Station TOD Area and sets out a vision for the area. The Vision for Moody Centre was created through the City's community engagement process when the OCP was being developed in 2017. The key visioning elements include:
Flexible outdoor spaces
Creation urban plazas and mini parks
Integration of public art
Encouraging a range of housing options (i.e. ownerships and rental housing)
Housing that is accessible, affordable, and intergenerational
Encouraging upper floors to be set back from St. Johns Street
Providing weather protection and pedestrian scaled amenities to facilitate walking
Providing at-grade shops and services creating active edges
Encouraging a significant amount of employment related uses
Incorporating landmark features as part of larger scale developments
Incorporating landscaping to create a softer, green edge to the built environment
Consideration of view corridors
Consideration toward commuter parking and visitor parking for Rocky Point Park
Pedestrian and cyclist links to improve connectivity between existing and planned amenities
Moody Centre Policy Directions:
To help guide development in the Moody Centre TOD Area, the OCP sets out further policy directions as described in the figure below.